Ugandan Gorilla and Chimpanzee Safari Highlights

Day 1: Fly to Entebbe Airport
Today you arrive in Uganda, where you are met at the Entebbe International Airport, and taken to your hotel for welcome drinks and a briefing. We then travel to a nearby airstrip to take an air charter to the Bwindi Impenetrable National Park. This is a UNESCO World Heritage Site and is one of the most biologically diverse areas in the world. On arrival, we are welcomed to our camp. The rest of the afternoon is at leisure to relax or explore. After dinner, we retire for the night, lulled to sleep by the sounds of one of Africa's most incredible natural environments.
Overnight: Gorilla Forest Camp  (F/B)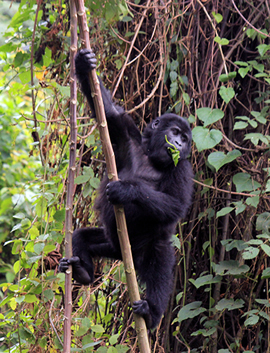 Day 2 and 3: Gorilla Tracking in Bwindi Forest
The next two days activities may be amongst the most exciting and challenging of our entire expedition. The Mountain Gorillas in Bwindi are part of a worldwide population of just 700 individuals. The gorillas we are allowed to track belong to either one of three habituated family groups. For up to five years each, these groups have undergone an extremely delicate process that has gradually brought them to tolerate the presence of humans for a brief period every day and allowed a few privileged visitors to interact with them in the wild.
The gorillas are by no means tame, and are completely wild animals. However, experienced guides will accompany us on our tracking, many of who have been involved in the habituation process themselves. The guides will use their knowledge of the gorillas' habits and information from the previous day to locate the group's whereabouts.
Because of this, the time taken to track the gorillas varies enormously, from as little as half an hour to as much as 8 hours before one returns to camp. Once the gorillas are located, our group will be allowed a maximum of one hour with them. This is one of the world's truly memorable experiences – a look into one of these magnificent creatures' eyes brings home the bond that exists between them and us. It also brings home the poignant fact that they are on the edge of extinction, and that our presence here contributes to ensuring their continued survival. Tracking the mountain gorillas is an awe inspiring experience and as you come across them in their forest surroundings all thought of fatigue disappear! The hour is often over all too quickly, and we slowly make our way back to camp to recount the day's adventures.
Overnight: Gorilla Forest Camp (F/B)
Day 4: Fly Back to Kampala
Today is another flight back to Entebbe. Both the flight to Bwindi and the return flight today are highlights of this trip. The huge vistas that open up on our one-and-a-half-hour journey belie Uganda's small size. We see in the distance the hills and plains of Rwanda and Tanzania and the Rift Valley dropping away from us towards Lake Edward and the Congo. Below us rolling ranch land soon gives way to dry scrub and gigantic wetlands just before our final approach over Lake Victoria.