This is one of the best adventure safari combining the top highlights of touring Uganda and Rwanda. This trip combines gorilla tracking, chimpanzee tracking and game viewing allowing visitors to have the incredible experience of seeing chimps and birds in different habitats, seeing chimps in two different parks of Rwanda and Uganda, with each park offering its unique attractions.
Trip Highlights
This safari starts in Kigali, Rwanda and finishes in Entebbe, Uganda.
Trip Itinerary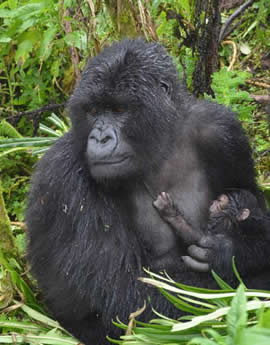 DAY 1: Arrival
Arrive Kanombe airport, met by our smiling guides. Greet and transfer to Kigali. [Approximate driving time: ½ hour] Time permitting, go for a tour of the city (optional). This includes a visit to a genocide memorial and a visit to the local general goods market and the craft centre. O/N: Hotel chez Lando or Mille Collines Hotel (L).
Day 2: Kigali – Butare – Nyungwe Forest NP.
After breakfast you will depart for Butare the second largest city of Rwanda and is regarded as the intellectual city of Rwanda. It hosts the National Museum, several academic (University) and research institutions. On your way to Butare you will visit Nyanza (currently Nyabisindu) the former Mwami's palace (King's palace) and the seat of the feudal monarchy. The palace has been reconstructed to its 19th century state and shows a traditional dome that can be compared with the Kabaka's palace of Buganda. You will visit the National Museum there, which, is one the well set-up if not the finest ethnographic museum of East Africa. It's a good source of information on the cultural history of Rwanda and the region. O/N: ORTPN Gisakura Guest House (FB)
DAY 3: Nyungwe Forest
In Nyungwe Forest: Go chimp tracking and birding. There are different beautiful trails available and the superb waterfall trail of Gisakura is probably the most rewarding. The hiking time is 2 up to 3 hours and is a very enjoyable hike accessible to everybody! If you missed the Angolan Colobus you can have another try near to the tea factory where another troop is hosted. Nyungwe Forest is the only place in Africa where troops of 300 black-and-white colobus monkeys (Angolan Colobus) can be seen jumping in the trees! A spectacular sight! Lunch.  O/N: ORTPN Gisakura Guest House (FB)
DAY 4: Nyungwe Forest
Guided nature walk in the forest to see a variety of animals and some of the three hundred bird species found here. Picnic lunch.  Bird the hotsprings in Rugarama, time permitting. Return late afternoon. O/N: ORTPN Gisakura Guest House (FB)
DAY 5: Nyungwe to Parc National des Volcans
Return to Kigali or pass via Gisenyi to Ruhengeri. Drive north to Kinigi via Ruhengeri. Enjoy the rolling hills for which Rwanda is well known. [Approximate driving time: 6 hours] O/N: Hotel La Palme/Virunga Hotel/Mountain Gorilla View Lodge (FB)
DAY 6: Parc National des Volcans
After breakfast you will report at the ORTPN headquarters where your driver-guide will accomplish the necessary formalities for you. You will meet your ranger guide(s) for a briefing about the greatest animal experience ever.  We will drive you to the slopes of one of the Virunga volcanoes for your trekking. After the trekking, lunch at your hotel or at Ruhengeri and in the afternoon, if time allows, an excursion to explore the beautiful lakes in the region: Lake Bulera & Ruhondo. An excellent view of the Virunga chain of Volcanoes can be seen while there depending on weather conditions.
O/N: Hotel La Palme/Virunga Hotel/Mountain Gorilla View Lodge (FB)
DAY 7: Parc National des Volcans  to Kisoro in Uganda
In Parc National des Volcans: Either go gorilla tracking (on payment of US$500 gorilla permit supplement at time of booking).
Or do optional activities (at extra cost of $100pp): Track the golden monkeys Or climb the awesome Visoke volcano, Or trek to Karisoke Research Centre which was set up by the famous primatologist Dian Fossey, Or visit local communities. Alternatively for those who are not up to it, simply relax at Camp.
After the trekking, lunch and transfer to Uganda (visa fees $110). [Approximate driving time: 2 hours]
O/N: Travellers Rest Hotel (FB)
DAY 8: Lake Mutanda to Lake Bunyonyi
Transfer to Mgahinga Gorilla Park in Uganda. Either guided nature walk in Gahinga or climb a volcano. Visit the natural, beautiful-looking Lake Mutanda, surrounded by the volcanoes, take a walk on the shores. Lunch in Kisoro. In the afternoon, transfer to lake Bunyonyi for an evening scenic views of the most beautiful lake in the region. O/N: Bunyonyi Overland Resort/Arcadia Cottages (FB)
DAY 9: Lake Bunyonyi to Queen Elizabeth Park
Transfer to Queen Elizabeth Park, game viewing and birding on the way. Lunch on arrival.  Afternoon game drive. [Approximate driving time: 4 hours] O/N: Simba Safari Camp (FB).
DAY 10: Queen Elizabeth Park
Chimp tracking in Kyambura gorge. Afternoon boat cruise birding on Kazinga Channel for relaxing on the lake rich in many bird species. O/N: Simba Safari Camp (FB).
DAY 11: Back to Rwanda
Leave for Kigali in Rwanda. Finalise boarder arrangements at the Katuna border. [Approximate driving time: 6 hours] O/N: Hotel Chez Lando or Mille Collines Hotel (B-L-D).
DAY 12: Fly out
The half day Kigali City trip (optional) can be done for those who did not do it the first day. Transfer to the airport for your flight. [Approximate driving time: 30mins]