This 10 Days (9 Nights) Uganda Safari combines several experiences. Meet the Great Apes of Africa including gorillas in Bwindi Impenetrable Forest and chimpanzees in Kibale Forest National Park on this safari. Enjoy classic game drives through the savanna game parks of Queen Elizabeth National Park and Lake Mburo National Park. See incredible wildlife in the two game parks that include – elephant, lion, buffalo, hippo, leopard. Antelopes and birds are everywhere!
Trip Itinerary
Day 1: Arrival – Entebbe
In the morning, you arrive at the newly refurbished and modern Entebbe International Airport, where we will meet you for a welcome drink and a briefing. We then set off west to Kibale Forest. In the afternoon we arrive at our camp.
Overnight: Ndali Lodge/Mantana Kibale (L, D)
Day 2: Kibale Forest National Park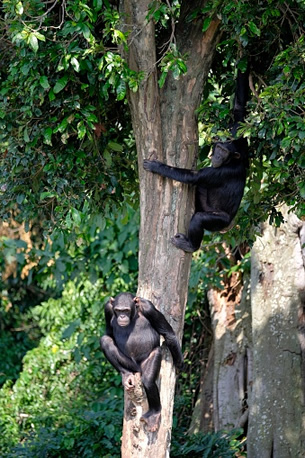 This 766-square-kilometer tropical rain forest is the natural habitat for an amazing 12 primate species, and contains the highest primate density of an area on Earth. Here, on a guided forest walk, you may find families of Chimpanzees and Red Colobus Monkeys chattering and swinging through the ancient forest trees. Some of the trees are 50 to 60 meters (150 to 180 feet) in height, and provide a majestic canopy for the profusion of rain forest life, including 325 bird species. Even though you may only rarely see them, the park is home to the largest population of Forest Elephant in Uganda, and is also home to Buffalo, Uganda Kob, Genet, Civet, Waterbuck and Bushbuck. This morning we take a guided walk through this fascinating forest, following the well-marked trails. After lunch we visit a nearby forest swamp that is excellent for viewing more primates and other forest animals.
Overnight: Ndali Lodge/Mantana Kibale (F/B)
Day 3: Kibale Forest National Park – Queen Elizabeth National Park
After breakfast we enjoy another morning walk in the forest, and return to camp for lunch. We then set out in a southerly direction for the Queen Elizabeth National Park. Set in the western branch of the Great Rift Valley, the park is incredibly diverse in the type of terrain it encompasses. Prehistoric volcanic explosion craters now serve as huge amphitheatres across the floor of which troop herds of Elephant and Buffalo. Some of these craters have formed salt lakes in which Flamingo from as far away as Kenya are scattered like delicate pink dust. Wide-open plains support fair numbers of game, both prey and predator. The two large lakes that bound the park – Edward and George, together with the connecting Kazinga Channel are home to large numbers of Hippo, and numerous Crocodile. This evening, we arrive at Mweya Lodge, dramatically located on a peninsula that juts out into Lake Edward and provides excellent views of the Kazinga Channel. We will enjoy our first game drive this evening.
Overnight: Mweya Safari Lodge (F/B)
Day 4: Queen Elizabeth National Park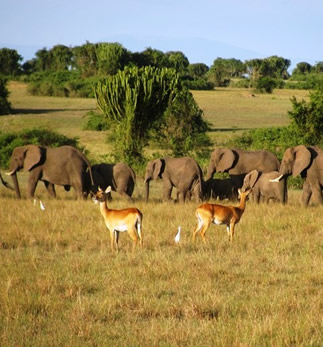 This morning, we will go on the first of our game drives. It's an early start, and we will enjoy coffee and tea out on the rolling plains of the park. We return to the lodge for breakfast, and in time to prepare for our launch trip on the Kazinga Channel. This water system hosts the highest concentration of Hippo in the world, and this excursion brings us up close to them. We will also see crocodile, buffalo, and other game that drink from the Channel, and experience the profusion of bird life that is supported here. We return in the late afternoon, and transfer to our lodge. As dusk falls, we prepare for dinner and a good night's rest.
Overnight: Mweya Safari Lodge (F/B)
Day 5: Queen Elizabeth National Park
Our adventure necessitates a very early (and hearty!) breakfast this morning. We drive to the top of the Chambura Gorge, a deep natural ravine in the surrounding plains. We descend into the floor of the gorge, where a riverine forest very different from what we have so far seen awaits us. The gorge is home a number of bird and mammal species. We drive back to the lodge for lunch, followed by a late afternoon game drive. On the game drive, we may run into Waterbuck, Elephant, Giant Forest Hog, Bushbuck, Buffalo, or even Lion or Leopard. Then it's back to our lodge for our usual evening wind-down.
Overnight: Mweya Safari Lodge (F/B)
Day 6: Queen Elizabeth National Park-Bwindi Impenetrable National Park
Another early start for a bush walk through the Maramagambo Forest. This is one of the largest forests in Uganda, and forms a habitat for a number of primates and forest dwellers. Due to its location, Maramagambo also has a high diversity of butterflies and birds. Our walk culminates in a visit to volcanic caves that are home to thousands of bats, and often, several reptile species. Later, we travel further south to the Bwindi Impenetrable Forest. This is a leisurely drive, taking most of the day. We climb out of the Rift Valley at first, and then travel through the Kigezi Highlands of South-Western Uganda. The scenery gets increasingly breathtaking as we switchback up and down the hills. Thirty kilometres (18 miles) before the end of our journey, we see our objective – the mist-swathed mountains of the Bwindi Impenetrable National Park. This is a UNESCO World Heritage Site and is one of the most biologically diverse areas in the world. On arrival, we are welcomed to the luxurious Gorilla Forest Camp with hot towels and a welcome drink. We retire to our enormous tents for a hot shower (or a hot bath if you prefer), and meet later around the campfire to recount the day's activities. After dinner, we retire for the night, lulled to sleep by the sounds of one of Africa's most incredible natural environments.
Overnight: Gorilla Forest Camp – (F/B)
Day 7 and 8: Bwindi Impenetrable National Park
These two days activities may be amongst the most exciting and challenging of our entire expedition. The Mountain Gorillas in Bwindi are part of a worldwide population of just 700 individuals. The gorillas we are allowed to track belong to one of three habituated family groups. For up to five years each, these groups have undergone an extremely delicate process that has gradually brought them to tolerate the presence of humans for a brief period every day and allowed a few privileged visitors to interact with them in the wild.
The gorillas are by no means tame, and are completely wild animals. However, experienced guides will accompany us on our tracking, many of who have been involved in the habituation process themselves. The guides will use their knowledge of the gorillas' habits and information from the previous day to locate the group's whereabouts.
Because of this, the time taken to track the gorillas varies enormously, from as little as half an hour to as much as 9 hours before one returns to camp. Once the gorillas are located, our group will be allowed a maximum of one hour with them. This is one of the world's truly memorable experiences – a look into one of these magnificent creatures' eyes brings home the bond that exists between them and us. It also brings home the poignant fact that they are on the edge of extinction, and that our presence here contributes to ensuring their continued survival. Tracking the mountain gorillas is an awe inspiring experience and as you come across them in their forest surroundings all thought of fatigue disappear! The hour is often over all too quickly, and we slowly make our way back to camp to recount the day's adventures.
Overnight: Gorilla Forest Camp (F/B)
Day 9: Bwindi Impenetrable National Park – Lake Mburo
Today we will travel eastwards to Lake Mburo National Park. After lunch in Mbarara, we drive to the park and check in to our camp. We enjoy an evening game drive to view the parks plains game species and birds, followed by a return to the camp to freshen up for dinner.
Overnight: Lake Mburo Tented Camp (F/B)
Day 10: Lake Mburo – Entebbe
After an early morning game drive, we return to Entebbe, where we will check in to our hotel and prepare for our evening flight out. We will arrive in time for lunch, with the afternoon at leisure. Overnight: Imperial Resort Beach Hotel (B, L)
End of the Safari
Find more Information About This Safari
Are you interested in this trip? Let us know your travel requirements below and we will plan with you a great trip to the gorillas.