Day 1, Transfer to Kibale Forest National Park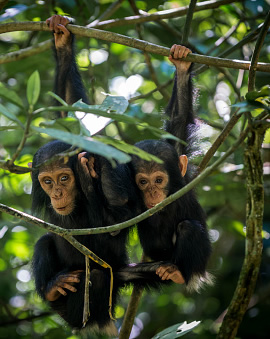 After breakfast at your Hotel in Kampala, you will set out to Kibale forest National Park via Mityana -Mubende. En route you will have lunch in Fort portal town after which you will have a short town tour in Fort Portal. Visit the crater lakes and the Toro Palace, Karambi tombs. Dinner and overnight at Kibale safari Lodge or Primates Lodge or Ndali Lodge for up market/ Chimps nest for mid range and Chimpanzee guest house for budget
Day 2, Chimpanzee tracking in Kibale forest and Bigodi swamp walk
Breakfast will be served in the morning after which, you will set out for the short chimpanzee briefing from the Uganda Wildlife Authority officials. The rangers will guide you on how to walk while in the forest and also how to behave. After this, you will get into the forest to start your search for the chimpanzees. These great apes are known as mans closest friends because of different characteristics that they have in common with man. Look out in the trees for chimpanzees, other primates such as white colobus monkeys, grey-checked mangabey, red colobus, black-and-white colobus, Baboons and different bird species like the great blue turacco, Africa pied king fisher , malkites and so on. Return back to the lodge after the trek for lunch after which you will go for the Bigodi swamp walk to search for the water loving bird species. The forest is not only known for its 13 species of primates, but this swamp area with in it, is a bird watchers paradise. Return for dinner and overnight stay at Kibale safari Lodge or Primates Lodge or Ndali Lodge for up market/ Chimps nest for mid range and Chimpanzee guest house for budget.
Day 3, Transfer to Queen Elizabeth National park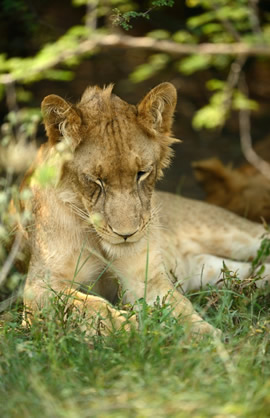 After a fully served breakfast, you will leave Kibale Forest National Park and transfer to Queen Elizabeth National park. En route, the journey will provide with different scenic views of the great mountains of the moon. You will reach the park with a game drive en route which will offer you with sights of different animals and how they behave at different times. Look out for animals like Elephants, Leopards, Lions and Kobs. You will reach the park headquarters at Mweya in the late afternoon where you will have lunch. Relax while having a small tour around the area. Dinner and overnight at Mweya Safari Lodge for up market/Hippo hill camp or Ihamba for mid range/Simba Safari camp for budget.
Day 4, Game drive and Launch cruise
After breakfast early morning, you will go for the game drive in Kasenyi area with in the Park. The game drive will reward with beautiful and a variety of wildlife in the park such as Elephants, Lions, leopards, buffaloes, Antelopes like bush bucks and water bucks, Kobs, warthogs and so on. Later on you will return to your lodge for lunch as you wait for the afternoon launch cruise along the Kazinga commonly known as the area with the highest concentration of hippos in Africa. The launch cruise will reward you with views of the most famous water loving animals like crocodile along the river banks, elephants taking water, hippos and many bird species. Return back to your lodge for dinner and overnight stay at Mweya Safari Lodge for up market/Hippo hill camp or Ihamba for mid range/Simba Safari camp for budget.
Day 5, Transfer to Bwindi Impenetrable forest National Park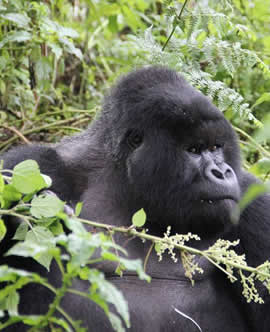 You will set out for the early morning game drive with in the park to search for the early risers and animals you missed out in the previous game drives. Alternatively, you can go for chimpanzee tracking in the Kyambura gorge. Later on have lunch and after transfer to Bwindi Park via the Ishasha sector commonly known for its rare tree climbing lions. As you pass the area, look out for the rare tree climbing lions in fig trees. Proceed and reach Buhoma in the evening where you will rest a bit, have dinner and an overnight stay at Gorilla Forest Camp/Gorilla resort for up market, Buhoma lodge or Lake Kitandara camp for mid range or Buhoma community Bandas for budget.
Day 6, Gorilla trekking experience
After breakfast at the lodge, you will go to the park headquarters for briefing from the Uganda wildlife Authority ranger guides. After the briefing, the ranger will lead you into the thick impenetrable forest to start your search for the endangered rare species of Mountain Gorillas. The gorilla search always continues from the place where they were last seen the previous day. Upon reaching the area where these famous species are, you will only be allowed to interact with them for only one hour and you should always keep maximum silence while with these Gorillas. You are allowed to take photographs and so one. To find the Gorillas, it's such a tiresome experience since it can take you almost 3-8 hours to find them. However, once you meet these gorillas, you will easily forget the hatches you have gone through to find them and instead save the good memories you will experience with them. After the interaction, you will return late to the lodge for dinner and overnight stay as above.
Day 7, Transfer back to Kampala
After an early breakfast at the lodge, you will drive back to Kampala with your lunch en route in Mbarara town. On your way back, you will pass via Kabale commonly known as the Switzerland of Africa because of its hills and beautiful scenery. Reach Kampala late evening and drop off will be at your Hotel in Kampala.
End of Safari

Error: Contact form not found.