Ugandan Explorer – A Small Group Safari from $2,960 per Person Sharing, Excluding International Flights
Day 1: Ngamba Chimpanzee Tour
Upon your arrival into Entebbe International Airport (suggested to arrive at 09:10) you will be met by your professional driver/guide and vehicle and escorted to your cozy guesthouse. By midday, you are met transferred by boat on Lake Victoria to the Jane Goodall Institute on Ngamba Island. This is a project of the Chimpanzees Sanctuary and Wildlife Conservation Trust (CSWCT), established in 1997 by the Born Free Foundation (UK), International Fund for Animal Welfare (USA), the Jane Goodall Institute (Germany and Uganda), The Uganda Wildlife Education Centre Trust (UWECT) and the Zoological Board of New South Wales (Australia) and it provides these orphaned chimpanzees with a secure home to live out their lives, since a return to their natural habitat is not possible, while educating visitors and local communities about their remarkable species and the importance of conserving their fragile forest habitat. Finally, you are transferred to your guesthouse where you will have a short safari briefing to prepare you for your safari.
Overnight: Via Via Guest House (Budget) / 2 Friends (Midrange) / Boma or Hotel No.5 (Luxury)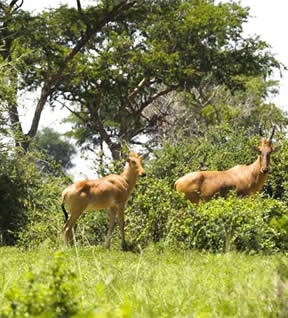 Day 2: Entebbe – Lake Mburo National Park
From Entebbe you head south to the Lake Mburo National Park. The park is composed primarily of grassland, wetland, and acacia woodland habitats. At the centre of the park lies Lake Mburo which, together with 14 other lakes in the area, forms part of an extensive wetland system. The park has topi, eland, klipspringer, zebra, buffalo, oribi, sitatunga, leopard, an excellent variety of water and acacia savannah bird species, like crested crane, marabou stork and bronze-tailed starling.
Overnight: Leopard Rest Camp (Budget) / Arcadia Lodge Lake Mburo (Midrange) / Mihingo Lodge (Luxury)
Day 3: Game Drives in Lake Mburo National Park
Today we travel along from Mburo towards the Kabale region, and then into the mountainous area of the lush Uganda Highlands – the 'Switzerland of Africa' – with great views and vistas of this beautiful green area, from here we continue to Bwindi Impenetrable Forest, for your gorilla tracking base. It will be a fairly long day in the vehicle, passing some interesting scenery, farmland and lush green hillsides, but you have the rest of the afternoon to relax at the lodge and enjoy the views across the forest.
Overnight: Rushaga Havens Lodge (Budget) / Rushaga Gorilla Camp (Midrange) / Chameleon Hill Lodge (Luxury)
Day 4: Gorilla Trekking in Bwindi Forest
An early morning trek into the forest on the slopes of the volcanoes, led by experienced trackers will bring you amongst a family of Mountain Gorillas. These massive primates are extremely rare, only approximately 720 remaining. You will get within metres of the family, and be privileged to spend an hour amongst them. Returning to the camp for a late lunch, we have an opportunity for forest walks with the guides, or just to relax. The gorilla trekking may be fairly strenuous; up to six hours or longer is not uncommon – at relatively high altitude. Mountain Gorillas are wild animals, as such sightings cannot be guaranteed however the success rate is well over 90%.
Overnight: Rushaga Havens Lodge (Budget) / Rushaga Gorilla Camp (Midrange) / Chameleon Hill Lodge (Luxury)

Day 5: Drive to Queen Elizabeth National Park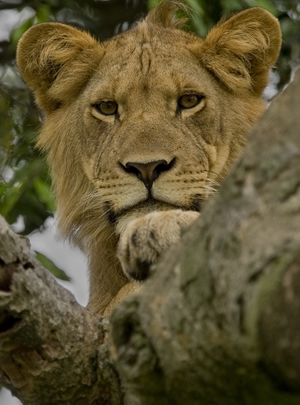 Today you have a second opportunity for gorilla tracking, with pre-purchased permits subject to availability. In the afternoon we will drive in a northerly direction to Queen Elizabeth National Park. Passing through farmlands and small towns and villages, you will have the opportunity to see rural Uganda and the vivid green beauty of the country and also, if weather and road conditions allow, we may enter QENP from the Ishasha side of the park where excellent game viewing can be conducted en route.
You will stay in the Ishasha Sector where you will easily access to a host of game viewing including the famous tree climbing lions. There are en-suite bathrooms with hot bush showers and eco-friendly toilets. Overnight at At The River (Budget) / Ishasha Jungle Lodge (Midrange) / Ishasha Wilderness Lodge (Luxury)
Day 6: Explore the Ishasha Sector
You will explore Ishasha, the southern sector of Queen Elizabeth considered by some experts as one of the most alluring game viewing area of East Africa. It's an off-the-beaten-track destination that you will surely enjoy.
We wake up early, of course, since this is the best time for observing nature. You start from the southern circuit in search of the elephants and we will drive over the plains of Ishasha in the open savannah. The southern circuit usually has large herds of buffalo, Uganda Kob and topi. Near to the swamps of the southern circuit you might see even leopard. We continue and drive to the northern circuit which is the area near the main road known for its tree climbing lions. We look particularly at the many fig trees where lions like to stay. But we also visit the Uganda Kob mating ground which is their preferred hunting area. After an initial scouting expedition, we transfer to the park headquarters having another game drive along the way.
Overnight: Bush Lodge (Budget) / Enganzi Lodge (Midrange) / Mweya Safari Lodge (luxury)

Day 7: Explore Mweya, Queen Elizabeth National Park
From Ishasha you head north to the Mweya Section where you enjoy a cruise along the Kazinga Channel. This is a great wildlife trip as the elephants, buffalo, topi, Kob, hippos and crocodiles all come down to the water to relax in the shallows or quench their thirst during the heat of the day. You have the chance to go to the Kyambura Gorge to track a troop of 20 semi habituated chimpanzees (activity decided on the day by consensus by the whole group otherwise you will take a game drive on the Kasenyi plains). The Kyambura River, about 16km long, flows into the Kazinga Channel. On arrival, the rangers will lead you and we drive to the nearest point, where they (rangers) usually know the chimpanzees are located. The rangers will give you a briefing before descending into the depths of the gorge. The nature walk takes a few hours and lunch will be served at Kyambura fig tree campsite before heading back to Ishasha.Overnight: Bush Lodge (Budget) / Enganzi Lodge (Midrange) / Mweya Safari Lodge (luxury)
Mweya Safari Lodge – is located on a peninsular in the heart of Queen Elizabeth National Park; this lodge offers spectacular views over the Kazinga Channel with great bird watching and a variety of savannah game drives possible. Perfect pool positioning means that you can look down onto the plains whilst enjoying a cooling swim. All rooms have en-suite facilities (B/L/D)
Day 8: Return to Kampala
From the Queen Elizabeth National Park you head back to Kampala, stopping for a lunch enroute. You will be taken to Entebbe where you will be taken to the airport for your evening flight back home.