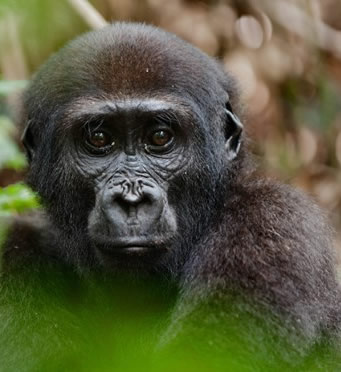 Lowland gorillas are habitually very difficult to habituate compared to mountain gorillas, however, the Democratic Republic of Congo and the Central African Republic offer the only chance to track one of the two habituated lowland gorilla groups in the world!
Facilities and infrastructure in this region are traditionally very basic and it can be immensely frustrating traveling in these regions; itineraries that have been confirmed can be changed at the last minute, transport does not arrive when it is meant to and accommodation is basic. All of this aside, tracking the lowland gorillas in either the Republic of Congo or the Central African Republic is one of the most pristine and worthwhile wildlife experiences left on the planet today. It is a true privilege to travel to these regions with only a handful of people ever having accessed this heart of Africa.
Republic of Congo – Mondika Gorilla Trekking Safari
Mondika is probabaly the most difficult group to reach. It is accessed from the basic Mondika tented camp; (please note that this is ONLY a tented camp, not in the sense of East African luxury tented camps…this is just tents…normal dome tents pitched on the ground!). This camp is located close to the Nouabale Ndoki National Park and its main function is as a research camp. Mondika is accessed by a 45 minute drive from Bomassa and then a 3hr walk through the forest to the camp.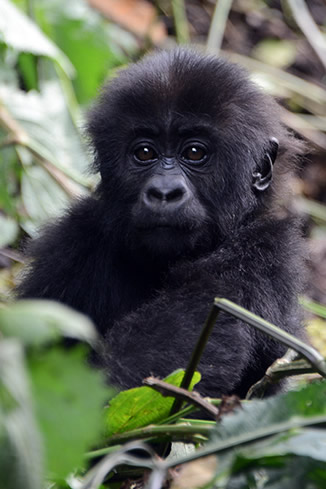 Tracking the gorilla group at Mondika can take from between 2 – 8 hrs and is strenuous as you track through thick jungle vegetation and often wade through swamps to reach your goal, the elusive lowland gorillas! At no stage should one compare tracking lowland gorillas with mountain gorillas, they are entirely different. Lowland Gorillas are much more mobile and therefore sightings of them can often be as you follow them through the jungle vegetation; in contrast, mountain gorillas will often, not always, be socialising in one area and you can sit and admire them at close quarters for your allotted hour. The Mondika consists of in the region of 12 individuals and is led by the silverback, Kingo.
Bai Hokou – Mkumba Gorilla Trekking Safari
The Mkumba group of lowland gorillas consists of approximately 15 individuals and is accessed via the Bai Hokou Research Camp, although guests will be staying at either Doli Lodge or Sangha Lodge.
As with Mondika, this is hard work and trackers should be prepared for spending the whole day out in the forest hacking through thick vegetation and wading through forest streams; a tiring but thrilling experience as you find yourself in one of the most pristine wildernesses left on the planet. Other activities form this location include visiting the stunning Dzangha Bai; sitting up in a treeline hide, you watch as up to 100+ forest elephants graze the Bai in search of precious forest minerals and nutrients.
Mbeli Bai – Lowland Gorilla Observation
At Go Gorilla Trekking we often include Mbeli Bai in the safari itinerary. Mbeli Bai provides a real chance to sit back and appreciate the environment that you are in. Mbeli Bai Camp is located by a 1hr drive and then a 1,5hr pirogue ride through stunning forest swamps as you glide through tree stumps and forest vines to a seasonal island in the middle of the forest. From Mbeli Bai Camp, you have a 1hr walk through the forest to the treeline hide every morning; it is from here that you relax peacefully watching the forest life drift by in front of you.
Mbeli Bai does not have any habituated gorillas however it has an exceedingly high density of lowland gorillas habituating the area surrounding the Bai. When you compare it to Langoue Bai in Gabon, which has 50 local gorillas, and Mbeli Bai in Congo has 150, you understand why this is such a special location! A variety of other wildlife also enters the Bai including forest elephants, red river hog, sitatunga and entire gorilla families that come to graze on the rich soils.
Gorilla Rules and Safety:
As with tracking mountain gorillas there is a strict distance rule when tracking the lowland gorillas of at least 7 metres. This distancing is to prevent the transfer of any human diseases which could potentially wipe out an entire gorilla family in a matter of weeks.
Gorilla trekking in this region is also limited to a maximum of 4 people at any one time. The reasons for this are to limit any stress to the gorillas and also because the vegetation is much more dense and therefore it is harder to move round the gorillas group that will most likely be mobile.