Looking for a day tour to the gorillas in Africa? We offer several day trips to the gorillas in Uganda, Rwanda and Congo. At Go Gorilla Trekking, we offer different ways to experience gorilla watching in Africa.
Go Gorilla Trekking in Volcanoes National Park

Departure Time: 5.00AM is the departure time.
Return time: Not Known – Depends on the trek
Trip Itinerary
This day trip starts from Kigali, the capital of Rwanda and departs at 5.00 AM in the morning. Our tour guide will pick you up early in the morning for a transfer to Volcanoes National Park. The park is located in Northern Rwanda – a distance of 2 hours drive from Kigali the capital of Rwanda.
By 8.00 Am – Assemble at the park headquarters and get assigned to which gorilla group to be visited.
After getting briefed and assigned, start off the hike into the jungles of Volcanoes National Park to track the endangered mountain gorillas. The time for the trek varies from 30 minutes to a full day hike to meet the gorillas. This depends on the location where the gorillas have spent the day.
Upon meeting the gorillas, you have up to one hour to watch these great apes. You can take pictures (do not use flash).
Sometimes a juvenile may walk up to you but you should keep a distance – remember human infections can also affect gorillas!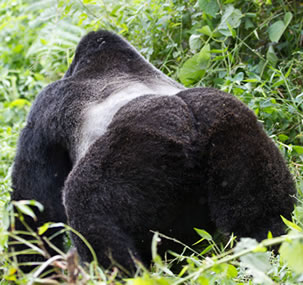 Rules:
You should always keep your voice low while with the gorillas.
You should always observe what the ranger guides tell you to do.
After the trek, our guide will take you for lunch. Later embark on a return trip to Kigali.
Cost of the Trip
from as low as USD900 depending on the group size.
Please Note:
You must stay a night in Kigali.
The trip starts in the wee hours of the morning.
Other Day Trips offered by Go Gorilla Trekking
Kigali City Tour – from as low as USD150
A tour around the different tourist sites in Kigali. Visit the Kigali Genocide Memorial, the Presidential Museum, Caplaki Market, Rwanda Parliamentary Building, the Women Emancipation Monument and more.
Mount Bisoke Hike
Hike Mount Bisoke one of the five volcanoes in Rwanda's Virunga Region. Like the gorilla trek, this trip starts from Kigali early in the morning.
A Day Trip to the Gorillas in Congo
This trip starts from either Kisoro in Uganda or at the Rwanda Border and leads you into the jungles of Virunga National Park to see the endangered mountain gorillas.
Book Your Trip
For more information on our day trips to the gorillas, or contact us by calling +256 792 187888 or email info@gogorillatrekking.com.