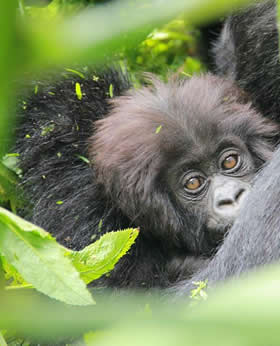 The Parc National des Volcans (PNV) is part of the Virunga Conservation Area and covers more than 125 kmsq. PNV is home of five Virunga volcanoes: Sabyinyo (3.674 m), Gahinga (3.474 m), Bisoke (3711 m), Muhabura (4.127 m), and the Karisimbi, the highest volcano with an altitude of 4.507 m.The PNV was Dian Fossey's base a long time ago (She died on the 26th of December 1985), and it is at the Karisoke Research Center that during 18 years she carried out her study on mountain gorillas.The park was closed for tourism in 1991 when the war broke out and was reopened again in July 1999. The numbers of visitors are increasing every day and the Volcanoes National Park Rwanda regains its former reputation as the best organized and most popular mountain gorilla sanctuary.
Gorilla trekking is the number one adventure tourist activity that tourists engage in while on holiday in Rwanda. Within the Volcanoes National Park in northern Rwanda, there are several gorilla families that have been habituated for gorilla tourism. Each day, eight tourists are allowed to visit a habituated gorilla family! There are several gorilla trekking safaris that we offer for Rwanda visitors and these trips depart daily given that gorilla tracking can be done all year round.
Where is Volcanoes National park located?
Rwanda hosts mountain Gorillas in Volcanoes National park which is also known as   French: Parc National des Volcans. The park is situated in northern part of Rwanda in Musanze district. You can reach the park by public means from Kigali or private vehicles. It is 2hours drive from Kigali airport/ city to the park.
History of gorilla trekking in Rwanda
Gorilla trekking in Rwanda was launched as a form of sustainable wildlife tourism and the primary reason- to support mountain gorilla conservation and protection in the wild. Since introduction of gorilla tourism and conservation, there has been an increase in mountain gorilla population in the world, accounting for a current total of 1063 individuals living in the 4 National Parks.
The 4 African safari parks to see mountain gorillas include Rwanda's Volcanoes National Park, Virunga National Park of Congo, Mgahinga Gorilla National Park and Bwindi Impenetrable National Park in Uganda. In Rwanda, there are exist about 13 families of mountain gorillas for gorilla safari holidaymakers to explore.
What is gorilla trekking?
Gorilla trekking is an on-foot adventure involving visitors hiking through the natural tropical rainforest to view mountain gorillas in the wild. It is a guided primate experience often takes visitors 2-6 hours searching for a gorilla family and one hour is spent face to face with mountain gorillas upon finding them. It is a strenuous wildlife experience but amazingly, one adventure that gets you value for your money.
How is Gorilla trekking conducted in Rwanda?
Like in Uganda, Rwanda Gorilla trekking excursion begins with briefing at around 7:30am, followed by gorilla group allocation to ensure that the sick, aged and weak people are given easy trek.  It is noted that a maximum of eight people are allowed to trek each gorilla group. All trekker groups are led by ranger guides to ensure informative and enjoyable trek. Only one hour is currently given to treks stay with Gorillas.
Gorilla Families in Volcanoes National Park
How many Gorilla groups are found in Volcanoes National park?
Volcanoes National park hosts ten habituated Gorilla groups namely Amahoro gorilla family, Sabyinyo Gorilla family, Karisimbi Gorilla group, Umubano Gorilla group,  13 group (Aka Agasha gorilla group), Hirwa gorilla group, Bwenge Gorilla family, Ugenda Gorilla family and Kwitonda Gorilla group.
Rwanda has seven habituated gorilla families and is home to about one third of the worldwide population mountain gorillas. There are currently seven gorilla families open for tracking:
Susa Gorilla Family
Family size: 39 members including 3 silverbacks
This group sometimes migrates to higher altitudes which makes them harder to track. The group is also well known for having a young twin named Byishimo and Impano.
Sabyinyo Gorilla Family
Family size: 9 members including 2 silverbacks
They mainly live in the gentle slopes between Mount Sabyinyo and Gahinga and thus are easy accessible. The family is led by the powerful silverback Guhonda.
Amahoro Gorilla Family
Family size: 15 members including 1 silverback
To track the Amahoro group can be challenging as it is a fairly steep climb. It is however a tranquil family led by Ubumwe. The name Amahoro means "peaceful".
Group 13 Gorilla Family
Family size: 20 members including 1 silverback
Group 13 was the first habituated group and has grown from the initial 13 members to 21 individuals.
Umubano Gorilla Family
Family size: 7 members including 1 silverback
The Umubano group was formed by members of the Amahoro family after Charles, one of the other males, broke off and is now leader of his own group.
Kwitonda Gorilla Family
Family size: 18 members including 2 silverbacks
The Kwitonda family is named after the dominant silverback of this group and means "humble one".
Hirwa Gorilla Family
Family size: 9 members including 1 silverback
Still a new group that emerged recently and is formed from two different families, Group 13 and Sayinyo.
Whilst every effort is made to ensure that the provided information is accurate and up-to-date, the statistics may change any time.
How much is Rwanda Gorilla trekking permit?
A Rwanda Gorilla Permit is sold at US$1500 per person.
Where can get Rwanda Gorilla permits?
You can get permits from Rwanda development Board head quarter in Kigali or from any of the authorized agent.
Tourist attractions with in Volcanoes National park
Other tourist attraction in the Volcanoes National Park includes the Virunga Mountain which offers a wonderful view for photographing. Some of the volcanoes you can see while in volcanoes national park include Mountain Sabyinyo, Visoke/ Bisoke Volcano, Karisimbi Volcano, Mount Mgahinga and Mountain Muhabura.
Golden monkey are the second thought after Gorillas in Rwanda. You can summarize your safari in Volcanoes with Golden monkey trekking after seeing Gorillas as your first priority. Golden monkey are found in groups and it's enjoying to meet them in their natural habitat.
Many bird species are found in the park. Volcanoes national park hosts over 50 bird species therefore, birders are welcome!
The unique tree species in the park – alongside bamboo vegetation is also amazing to see while in Volcanoes National park.
The Gorilla starting point- well designed and every morning before setting off to trek Gorillas, visitors are entertained with Kinyarwanda dance and songs. The troop performs to its best!
The safari Lodges like Kinigi Guest House, Le Bambou Gorilla lodge, Mountain Gorilla View Lodge, Sabyinyo Silverback lodge among others. The Lodges re well decorated to attract visitors- staying at one of the listed lodges is memorable and you will be at home away from home!
The park also hosts insects, butterflies, reptile among others. It should be noted that reptiles are rarely seen but they do exist.
Tourist attractions outside Volcanoes National park:
The twin lake – Lake Burera and Buhondo are referred to us twin Lakes in Rwanda. The Lakes are situated near Virunga Lodge. Therefore, visitors staying at Virunga lodge can enjoy the view of the twin Lakes while at the veranda of their Lodge or you can sit in the chair and enjoy the view while taking a drink.
Iby'iwacu cultural villages – it is situated outside Volcanoes National Park but worth a visit. At the iby'iwacu Cultural village, you will be entertained by the residents through music, dance and drama, enjoy local stories, meet traditional hears fortune tellers among others.  At the Iby'iwacu cultural village, visitors are equipped with weaving skills, drumming skills, skills in using arrows while hunting and so on.
Resources;
For further reading check the Volcanoes National Park Rwanda, a travel resource with useful information such as geography, climate, weather, travel tips and more.