This 2 Days Gorilla Safari takes you to Mgahinga Gorilla National Park, home to the world's remaining population of the endangered mountain gorillas. Mgahinga National Parks sits high in the clouds and it is one of the most scenic places in Africa. The park has a habituated gorilla group that can be visited by tourists all year round. Since 2012, this group has been stable in the park and the success rate of meeting the mountain gorillas in over 95%.
Trip Highlights
This trip starts and ends in Kigali, the capital city of Rwanda.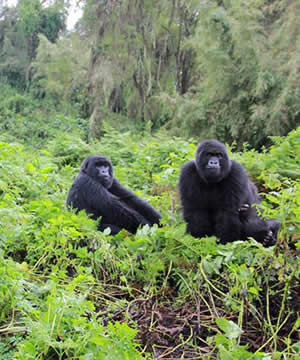 Day 1: Pickup and travel to Uganda's Mgahinga Gorilla National Park via Cyanika Border
Day 2: Gorilla Tracking in Mgahinga National Park. Return to Kigali, Rwanda
Trip Itinerary
Day 1: Travel to Mgahinga Gorilla National Park (For Gorilla trekking, Uganda)
Pickup from your hotel or Airport in Kigali, Rwanda. If pickup is within the morning hours, take a Kigali City Tour – Visit the Gisozi Genocide Memorial Site, Caplaki and the Local Market. After lunch in Kigali, hit the road to Mgahinga Gorilla National Park, part of the Virunga Forest that is home the mountain gorillas in Uganda. Have a stopover at the Twin Lakes – Take photographs! Cross to Uganda. Check in at Kisoro Tourist Hotel (Budget) / Kisoro Travelers Hotel (Midrange) / Bwindi Jungle Lodge or Gahinga Lodge (Luxury)
Day 2: Gorilla Tracking in Uganda
After early breakfast, the guide will drive you to the Mgahinga National Park offices. With packed lunch get ready for the briefing about the 'Dos' and 'Don'ts' while with the endangered mountain gorillas. Led by a local guide, enter into the montane forest and start your search for the endangred mountain gorillas. Gorilla tracking can take 2-8 hours depending on the movement of the gorillas. Tracking involves walking up steep and densely forested hills before finally coming across the gorillas camouflaged in the vegetation. You will stay with these giant apes for 1 hour for observation and photography. After the gorilla trek, return to the park office for your certificate. Embark on a return trip to Kigali.
End of the Tour
PRICE OF THE TOUR
SPECIAL OFFER
The trips costs from US$1150 per person (based on 2 PAX)
Let Go Gorilla Trekking immerse you in this intriguing destination and we take you on this memorable tour!