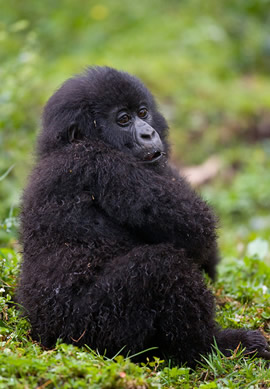 Bwindi Impenetrable Forest is a true African Jungle. It is so called "bwindi" a local word meaning "impenetrable" because of the dense undergrowth, vines and other vegetation make it almost impenetrable. It is a mysterious and awesome destination where you can go gorilla trekking in Uganda. The lowland rain forest and montane forest vegetation constantly struggles to reach heights that will allow it to receive more light.
Huge trees are festooned with creepers and parasitic plants such as mistletoe and orchids. Giant thickets of bamboo thrive in the humid atmosphere and, where sunlight breaks through, the elegant heliconia, or lobster claw, spreads its colourful petals. Amongst the dense vegetation the Colobus Monkey jumps from branch to branch, chattering its warning to its fellows hidden by the foliage.
Chimpanzees, in families of 20 or 30, make the rounds, searching for fruit and edible plants. Many species of birds can be seen, including various turacos and a great many birds of prey. This forest is a sanctuary for almost half the worlds population of mountain gorillas (about 330 of 600), which is the rarest race of gorilla.
The Bwindi Impenetrable Forest was gazetted as a national park to provide a safe habitat for several families of mountain gorillas. Today it is an important tourist destination and as well a location for an important scientific conservation programme. Gorilla tracking visits are limited to small groups. As you walk among the shadows of the leafy canopy, this rain forest reveals the smells and sounds of Africa, just as it has been for centuries.
Gorilla Watching in Bwindi Impenetrable Forest
Gorilla watching in Bwindi Impenetrable National Park is absolutely a thrilling experience that lasts a lifetime, something we regard a must-do bucket list primate adventure for every traveler on Uganda safari. A Uganda gorilla safari in Bwindi Impenetrable National Park offers travelers a rare opportunity to get up close with a habituated group of mountain gorillas a unique experience which you won't find anywhere on earth except only in Uganda, Rwanda and the Democratic Republic of the Congo (DRC) where these apes thrive in the wild. Mountain gorillas are listed among the endangered species and worldwide, only 1063 of them still exist and only in the 4 national parks-Bwindi Impenetrable National Park, Mgahinga Gorilla National Park, Volcanoes National Park in Rwanda and the Virunga National Park in DRC.
Bwindi Impenetrable National Park (BINP) is set suitably in Kanungu, Kabale and Kisoro district, Southwestern Uganda-approximately 9-10 hours' drive from Kampala and 3-4 hours' drive from Kigali Rwanda. This 331sq.kms protected area hosts highest population of mountain gorillas on earth which makes it an exceptional destination to track mountain gorillas. Currently, over 459 mountain gorillas are confined within the tropical rain-forest of BINP and the remaining gorilla population is shared among the Virunga Conservation Areas (VCA) that is Volcanoes National Park, Mgahinga Gorilla National Park and Virunga National Park. Gorilla watching/trekking in Bwindi Impenetrable National Park is only possible in anyone of its major regions-Rushaga and Nkuringo in the South; Buhoma sector in the North and Ruhija region in the East. Each of these gorilla trekking regions features habituated gorilla families and every family has a unique story to share and so a distinct experience for travelers on Uganda gorilla safari.
Bwindi Impenetrable National Park was gazetted in 1991 mainly to offer refuge to mountain gorillas. In 1994, it was designated a UNESCO World Heritage Site and currently it prides itself as a premier gorilla destination with about 20 habituated gorilla families. Each gorilla group is tracked by only 8 visitors and they include Mubare, Katwe, Habinyanja, Rushegura group (Buhoma region); Bitukura, Oruzongo, Kyaguriro and Mukiza (Ruhija region), Christmas, Nkuringo and Bushaho (Nkuringo region), Nshongi, Bweza, Mishaya, Mucunguzi, Kutu, Kahungye, Busingye, Rwingi and Bikingi.
Best time to visit Bwindi Impenetrable National Park
Gorilla watching in Bwindi Impenetrable National Park can be done at any time of the year. However, the peak/high/dry season is the best time to visit Bwindi Impenetrable National Park to trek mountain gorillas. The dry season in Bwindi comes in two phases that is between June, July, August, September and December, January, February. During the dry or peak season, Bwindi Impenetrable National Park experiences low rainfall amount which makes the gorilla habitat a bit drier thus making it easier for trekkers to hike through the dense and steep slopes while in search for mountain gorillas. The vegetation is also a bit clearer during the dry spell. However, it is possible for you to trek mountain gorillas during the wet or rainy season which also occurs in two phases-between March, April, May and October, November. During the wet or rainy season, there is plenty of rainfall which also supports growth of forage for gorillas to feed on and the fact that there is plenty of forage, these apes remain feeding in nearby areas. This isn't a case with the dry season when there is scarcity of forage which forces mountain gorillas to move to long distances to search for what to feed on thus long hours of trek.
What to expect on gorilla trek?
Gorilla trekking in Bwindi Impenetrable National Park begins with a 7:00am briefing from the park official or park ranger guide on the safety measures or gorilla trekking rules and regulations. In between, you will be allocated to a gorilla family to trek in a group of 8 visitors and park ranger guide to take you through your adventure. At 8:00am, the actual trek begins where you will start your search for mountain gorillas and this may take about 2-6 hours depending on your speed of hike, nature of the habitat and where your gorilla family is found. Once you bump into a gorilla group, you have an hour of magical encounter and also explore how they feed, copulate, body gestures as well as take as many pictures as possible. Along the way, you will come across other species including primates, birds, butterflies, plant and tree species.
Gorilla trekking rules and regulations
Every trekker on Uganda gorilla safari in Bwindi Impenetrable National Park is required to observe the set safety measures or dos and don'ts for gorilla trekking. Prior setting off on actual trek, you will be briefed about them and they include among others; only persons above 15 years are allowed to trek mountain gorillas, one habituated gorilla family is trekked by only 8 visitors, only an hour is what is given for you to strike your imaginations with mountain gorillas, don't go to trek gorillas in case you are not feeling well and in case of cough, please cover your mouth and if you want to sneeze, please cover your nose; keep a distance of 7 meters away from gorillas, keep your voices low but feel free to ask as many questions as you can.
Cost of gorilla permit
On gorilla trek, every trekker is expected to have a valid gorilla permit, passport and visa. Each gorilla trekking permit in Uganda is obtainable at $600 in case you are a foreign non-resident, $500 for foreign resident and shs.250,000 for the East African citizens. Please note, these rates will run up to 30th June, 2020 and starting 1st July 2020, visitors will obtain gorilla permits in Uganda at $700 for foreign non-residents, $600 for foreign residents and shs.250,000 for the East African citizens. To book for your gorilla permit, you can contact our reservation team or do so directly with the reservation team at Uganda Wildlife Authority (UWA).
What to pack for gorilla watching in Bwindi Impenetrable National Park
Your packing list for gorilla trekking should comprise of essential items including among others waterproof hiking boots, camera with no flashlight, gardening gloves, daypack, insect repellents, toiletries, long sleeved shirts, sweater, rain jacket/poncho, gorilla permit, visa, passport, bottled drinking water, energy giving snacks, walking stick which you can be got at the park headquarters, trousers, socks. Please make sure that you pack lightly to avoid overload since this is a strenuous experience.
Where to stay while on gorilla trekking in Bwindi National Park
The available luxury lodges for visitors on Uganda gorilla safari to spend a night in Bwindi Impenetrable National Park include Buhoma Lodge, Chameleon Hill Lodge, Gorilla Safari Lodge, Mahogany Springs Lodge, Clouds Mount Gorilla Lodge, Gorilla Forest Camp, Ruhija Gorilla Safari Lodge. The notable mid-range lodges in Bwindi Impenetrable National Park include Gorilla Mist Camp, Gorilla Valley Lodge, Nkuringo Gorilla Camp, Silverback Lodge, Eco Marvels Gorilla Resort, Engagi Lodge Bwindi and others. Budget accommodation choices in Bwindi Impenetrable National Park include Broadbill Forest Camp, Nshongi Camp and many others.
How to get to Bwindi Impenetrable National Park
Bwindi Impenetrable National Park is found in Southwestern Uganda and it is reachable by road or by air. By road, it is 9-10 hours' drive from Kampala and from Kigali, it is 3-4 hours' drive. From Kampala, the time may vary depending on the route you take but most trips begin from Entebbe/Kampala via Masaka-Mbarara-Kabale-Bwindi Impenetrable National Park. For those of you who may start from Kigali, you can cross via Katuna or Chanika border.
By air, you can be part of flight services especially for those of you who may not wish to spend to spend longer hours on the road. There are flight services offered to visitors starting from Entebbe International Airport or Kajjansi airfield to Kisoro or Kihihi airstrip where then you drive to Bwindi Impenetrable National Park.