GORILLA TREKKING SAFARIS IN UGANDA RWANDA & CONGO
100% Sightings Guaranteed on all our gorilla trekking trips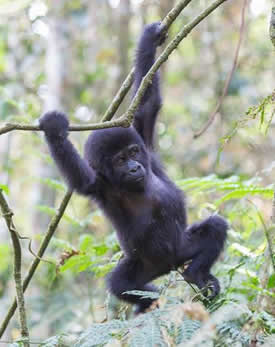 Welcome to Go Gorilla Trekking, a premier gorilla safari company in Africa. Experience the magic of gorilla trekking in Uganda, Rwanda & Congo with one of our gorilla tours. We offer year-round gorilla watching trips to observe the spectacular mountain gorillas in their natural habitat within various countries in Africa.

We invite you for an amazing encounter on a gorilla trek in Uganda, Rwanda and the Democratic Republic of Congo (DRC). We are an outdoor adventure travel company specializing in organizing gorilla safaris in Uganda, Rwanda and Congo. With over 9 years experience in organizing gorilla safaris in Africa, we create the best gorilla trekking expeditions into the tropical rain forests of Bwindi Impenetrable National Park and the Virunga Region at unbeatable prices!
All our gorilla tours are planned by a team of professional and proficient staff with vast experience in creating interesting and memorable tours. Planning for a trip to see the mountain gorillas in the wild or would you like to track the lowland gorillas in Central Africa? Booking a trip with us will be an outdoor experience like no other one you have ever had! Travel with us to the remote side of Africa and enjoy gorilla tracking in different national parks; Bwindi Impenetrable Forest and Mgahinga National Park in Uganda, Volcanoes National Park in Rwanda and Virunga National Park in Congo. All our tours are conducted in comfortable 4X4WD safari vehicles and are guided by professional and experienced safari guides. On all tours, clients stay at the best select comfortable lodges (whether you choose budget or high end) that will bring you back to nature!