Uganda safari experience is considered complete only if you include cultural safari in your travel plan. Whereas Bwindi National Park is popular for its thrilling gorilla trekking experience, the Batwa forest experience is one of the new experiences you shouldn't miss to take part. The Bwindi Batwa forest experience is a newly unveiled cultural experience offered to travelers on Uganda gorilla safari in Bwindi Impenetrable National Park. This unique tourism product was unveiled by the Ministry of Tourism, Wildlife and Antiquities with the aim of appreciating the culture of the Batwa pygmies in southwestern Uganda.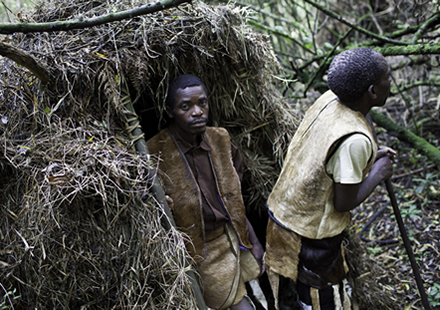 The Batwa pygmies are believed to have spent over 500000 years in the forest as hunters and gatherers. This is why they are popular as the forest dwellers. They considered the forest their treasure, spending their time only hunting and gathering till the early 1990's when they were displaced from their lovely home and now, they are the marginalized group at Mgahinga Gorilla National Park and Bwindi Impenetrable National Park.
The Batwa life has become one prime tourist attraction, attracting most tourists on gorilla trekking safari to explore more about their unique lifestyles, traditions, ancient hunting and gathering techniques, enjoy the thrilling dances, music performances among others. While on gorilla trekking safari or golden monkey tour in Mgahinga National Park, the Batwa village walk is by far an incredible complementary safari experience for you and you won't regret in life. Travelers on gorilla safari in Bwindi Impenetrable National Park on the other hand can now take part in the unique Batwa forest experience. This exceptional cultural safari experience was jointly developed in 2013 by Uganda Wildlife Authority together with Nkuringo Cultural Center as well as the Batwa community in the southern side of Bwindi National Park.
With the Bwindi Batwa forest experience, visitors get opportunity to explore and experience the unique traditions of the Batwa, especially the ancient hunting and gathering techniques, cultures, dances, music performances and lifestyles. Currently, about 66 Batwa individuals have under gone training in adult literacy, guiding as well as social cultural values, music dance, drama and enterprise development among others. The proceeds from this cultural experience goes back to the Batwa community so as to help enhance the wellbeing of the Batwa and also for purposes of poverty alleviation.
For any plans to embark on gorilla safari in Bwindi Impenetrable National Park, do not miss to add Bwindi Batwa Forest Experience in your bucket list. Embark on one of the Batwa forest experience trails and have a chance to explore and experience different aspects that will demonstrated to you and all depicting the unique Batwa culture. Visitors interested in this thrilling cultural experience can benefit from waive of park entry fees, especially if you are to book your gorilla trekking permit and also have plans to add this experience on your bucket list safari experience.
Other cultural experiences to take part while on cultural safari or gorilla safari in Bwindi Impenetrable National Park include Bakiga cultures, Batwa cultural experience/Batwa cultural trail.